Efficiency Master Tilt Tables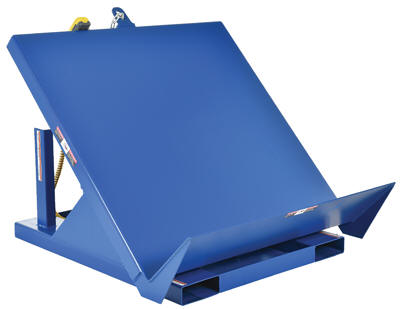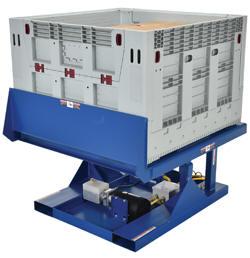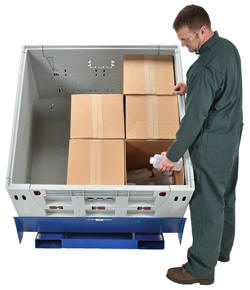 model EM1-200-4848-4
Series 200 (45º Tilt)

The model EM1-200 tilts pallets, crates, boxes, or baskets 45º to facilitate loading or unloading. The deck height is 24" when horizontal. Tables have all welded steel construction for years of durability. Unique design minimizes pinch points to meet OSHA requirements. The EM1-200 is equipped with an industrial quality, 56 frame 2 HP motor. This motor delivers best torque with minimal amperage draw and maximum life. Standard voltage is 460/3Ph (208/230 option is available). A push button hand control with a NEMA type 4 enclosure is standard. Base includes 7-1/2" W x 2-1/2" H usable fork pockets on 30" centers for portability with forklift. Optional foot control with guard is available.


model EM1-200-6050-2




model EM1-200-6050-6


EM1-500 Survey Sheet to help choose the correct size for your application.
Efficiency Master Tilt Table Series 200
Model
PDF's
Platform
(WxL)
Capacity
(lbs)
Degree
of Tilt
Horizontal
Height
Wt. (lbs)
EM1-200-4250-2
42"x50"
2,000
45º
24"
740
EM1-200-4848-2
48"x48"
2,000
45º
24"
697
EM1-200-6050-2
60"x50"
2,000
45º
24"
834
EM1-200-4250-4
42"x50"
4,000
45º
24"
780
EM1-200-4848-4
48"x48"
4,000
45º
24"
733
EM1-200-6050-4
60"x50"
4,000
45º
24"
894
EM1-200-4250-6
42"x50"
6,000
45º
24"
822
EM1-200-4848-6
48"x48"
6,000
45º
24"
832
EM1-200-6050-6
60"x50"
6,000
45º
24"
912
Series 200 Options
Model
Description
EM1-300-APPB
*Hand held control air powered hydraulic 2.8 HP 1 GPM (rotary) PB-2 For 45° Tilters
EM1-300-APFC
*Pneumatic foot control (rotary) FC-2 For 45° Tilters
EM1-300-APFT
*Foot Treadle 2,000# & 4,000# Only (reciprocating) For 45° Tilters

= Approval Drawing

= Warranty

= Photo Gallery

= Testing Certificate
Series 500 (90º Tilt)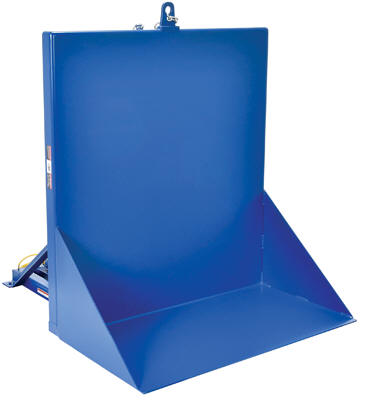 model EM1-500-4250-6
The model EM1-500 incorporates many of the quality features found in the series EM1-200 but features a full 90º of tilt. This model is ideal for upending products in shipping and receiving operations. This model must be lagged to the floor.


model EM1-500-4848-6


Efficiency Master Tilt Table Series 500
Model
PDF's
Useable Size (WxL)
Capacity
(lbs)
Degree
of Tilt
Horizontal
Height
Wt. (lbs)
EM1-500-4250-2
42"x50"
2,000
90º
24"
849
EM1-500-4848-2
48"x48"
2,000
90º
24"
899
EM1-500-6050-2
60"x50"
2,000
90º
24"
1035
EM1-500-4250-4
42"x50"
4,000
90º
24"
870
EM1-500-4848-4
48"x48"
4,000
90º
24"
930
EM1-500-6050-4
60"x50"
4,000
90º
24"
1047
EM1-500-4250-6
42"x50"
6,000
90º
24"
865
EM1-500-4848-6
48"x48"
6,000
90º
24"
896
EM1-500-6050-6
60"x50"
6,000
90º
24"
1106
Series 500 Options
Model
Description
EM1-600-APPB
*Hand held control air powered hydraulic (rotary) PB-2 For 90° Tilters
EM1-600-APFC
*Foot control air powered hydraulic (rotary) FC-2 For 90° Tilters

= Approval Drawing

= Warranty

= Photo Gallery

= Testing Certificate

Options For Electric Hydraulic Equipment

(Available at the time of sale for most of the
powered products listed in the
Ergonomic
Solutions
section.)
Freight Quote


Copyright © 2017
Vestil Manufacturing. 
All rights reserved. Disclaimer Information.
Terms & Conditions of Sale