Tree Grates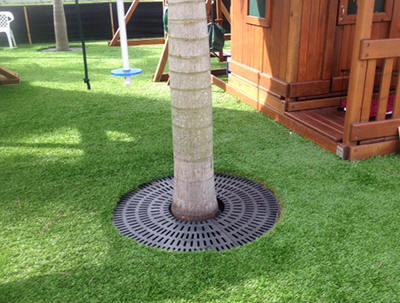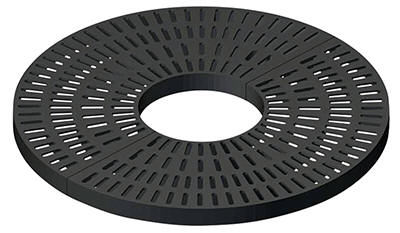 ROUND TREE GRATE
model TG-3R-BK
The tree grate is the perfect addition to any facilities landscaping resources. The grate provides safety to the vegetation while maintaining the quality of the surrounding environment. The units are available in both square and round shapes to better fit the users landscaping needs. With a lightwei
ght design, the units are able to be easily installed without the use of additional personnel. As the tree grows, the inside grate diameter can be expanded for a better fit. For best use, place each half of the grate around the tree on a flat surface and lock in place with the included hardware. ADA compliant.

The tree grate frame delivers great support to any existing or new grates. For best use, place each portion of the frame under the surface edge and fasten into place. Once in place, a new or existing grate can be fitted inside the frame for a smooth, uninterrupted surface.

Frame comes complete with (4) 1 1/2" square pre-drilled plastic frames (42" length for use with 48" square grate, or 54" length for use with 60" square grate).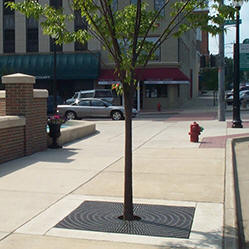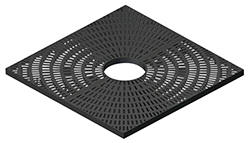 4FT. SQUARE TREE GRATE
model TG-4S-BK
Tree Grates
Model
PDFs
Description
Overall Size
(WxLxH)
Color
Wt.
(lbs)
TREE GRATES
TG-3R-BK
3 ft. Round
36"x36"x2"
Black
23
TG-4S-BK
4 ft. Square
48"x48"x2"
Black
43
TG-5S-BK
5 ft. Square
60"x60"x2"
Black
65
FRAMES
TG-4S-F-BK
4 ft. Square Frame
1-1/2"x42"x1-1/2"
Black
20
TG-5S-F-BK
5 ft. Square Frame
1-1/2"x54"x1-1/2"
Black
20

= Approval Drawing

= Warranty

= Photo Gallery

= Testing Certificate
Freight Quote