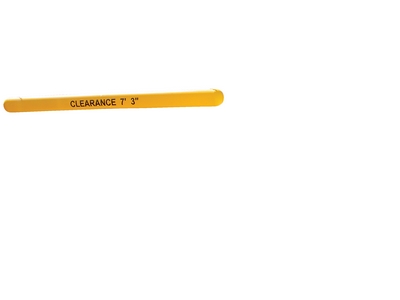 Low Density Polyethylene Customizable (Up to 15 Characters) Clearance Bar 78 In. Yellow
This clearance bar is low maintenance, highly visible, easily read so no more mistaking clearance height. Easy to install clearance bars are made of yellow nominal wall lo-density polyethylene that withstands a wide range of temperatures. Comes with eye hooks attached, chain not included. Customizable up to 15 character spaces (spaces include: spaces, dashes, and/or feet, inches symbols.) When no specifications are provided standard lettering is (clearance).
Low maintenance and highly visible clearance height
Lo-density polyethylene withstands ranges of temperatures
Includes eye hooks attached
Standard lettering is "clearance"