SERIES: DGL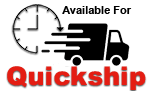 ---
LED Loading Dock Guide Light Sets
LED Loading Dock Guide Light Set, series DGL-LED-Y, provides drivers with visual target to align a truck trailer with the dock door. The LED guide light is especially useful in low-light environments like enclosed dock bays, but it's bright enough to improve visibility of the dock opening in daylight. The light may also be installed indoors to mark door openings for forklift operators and other warehouse personnel. It's a versatile safety product, at a low price!
---
Click a tab for more information.

+

Indicates items available under that tab.