---
Options for "D" Style Hoppers

- Caster Options |

- Optional Lids |

- Optional Colors Available
---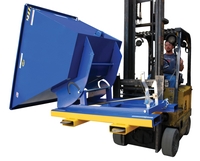 model D-TILT
Sideways Tilt Option, model D-TILT, can be used with D-75-LD and D-100-LD hoppers only. User must obtain written permission from fork truck manufacturer prior to use. Factory or field installed. May still use hopper like normal. Adds 3-5/16" to height.
"D" Style Hoppers Options
Model Number
Description
Wt. (lbs.)
D-TILT
Sideways Tilt Option (only available for models D-75-LD & D-100-LD)
130
LEKP
Welded leak proof Option
5
D-DPLG-75

*

0.75" Threaded Drain, Located in Left Corner
2
D-DPLG-2

*

2" Threaded Drain, Located in Left Corner
2
LUG
(4) Lifting Lugs (Welded) One on Each Corner
23

*D-DPLG option includes leak proof chute welds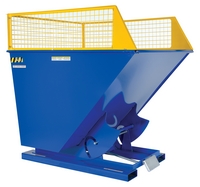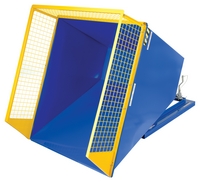 OPTION: D-150-EXT-SMY
Side Extensions, are great addition for material handling and construction facilities. The extended sides are constructed of steel mesh for high strength durability during transference of goods, while the yellow painted finish delivers great visibility.
Side Extensions For "D" Style Hoppers
Model Number
Extension
Height
Works With
Hopper Series
Wt.
(lbs.)
D-150-EXT-SMY
15-11/16"
D-150
37
D-200-EXT-SMY
15-11/16"
D-200
40
D-250-EXT-SMY
15-11/16"
D-250
45
D-300-EXT-SMY
15-11/16"
D-300
50
KEY:

= Approval Drawing --

= Warranty --

= Testing Certificate
If you did not find an expected Model or SKU # in this table, try the Product Specifications Section Above